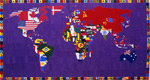 Alighiero Boetti, Map of the World, 1988 (detail)
Landscape Vs Landscape Art.
Is it possible to define some identity-making characters of a critical attitude inside the european landscape project? Landscape map of Europe as we intend it could be similar to Boetti Map of the World or otherwise the borders could be re-designed following fake lines to group together project characters?
These lines could then correspond with the morphologic, more than topological, divisions?
Europe is, moreover than just an independent states union, a jumble of architectures and project methods on landscape. From one side you can register regional styles, local styles, ambits of influence of Schools, till real Schools inside other Schools, little enclaves of project statements that results in a strong split of the languages.
From the other side could be registered, as an oppositive movement against the internationalization of the project, even in landscape architecture, a reflessive and questioning approach about the existence of autonomous idenitities, nearly always linked to the national borders.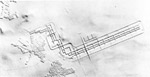 G. Samoną, Project for the Cagliari University

the single themes mainly individualize a possible transversality of the research projects in respect to the exhibition/container The Landscape in Europe.

So it happens with archaeologic landscapes, inside of which the differences in the project approach to the archaeology theme act as a background for different and various cultural principles regarding the ruins.

In the semantic, moreover than syntactic, inversion in the exhibition title paesaggio nell'architettura (landscape in architecture) the foundation is the same architecture with which will be read, measured and verified different gradients of landscape.

The enquiry on Mediterranean landscape, or the one on vertical alpine landscapes, are already oriented to find out a way of projecting with its characters which are peculiar of a strong cultural and ambiental geography.

Bruno Taut, The building of the Monterosa

The other method to develop the works will be to structure the research without imposing physical geographies but otherwise verifying cultural, projectual and identitary facts starting from the project interventions. A method that goes beyond the bureaucratic borders to reach and on the single intervention the cultural and sound out the cultural and normative attitudes of a landscape planning, in oppositon to a certain diffuse landscape art.

From the Europe laboratory will maybe come out some macro-ambits of study, inside of which the research for an identity with prevailing characters will design a new map of Europe, not made with nations and flags but with architectures for the landscape. Which and how much "Project-nations" could emerge is the question to which the laboratory should give an justifiable answer.

Enrico Prandi