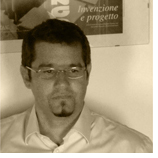 Graduated in Architecture with top marks and honours from the Faculty of Architecture of Milan Polytechnic under Guido Canella in 1998. In 2003 he was awarded a PhD in Architectural Composition at the IUAV University of Venice with a thesis on the relationship between architecture-city in the case of Mantua, supervisor Guido Canella, examiner Luciano Semerani.
He has carried out teaching and research first at the Faculty of Civil Architecture in Milan–Bovisa and later on at the Faculty of Architecture in Parma (since 1999, the year it was founded) taking part in research projects co-financed by public bodies and institutions, (PRIN, CNR, MURST), in the territories of Lombardy and Emilia in northern Italy. For years he has dealt with architectural themes linked to the urban and territorial environments of Lombardy ‒ above all Mantua ‒ and western Emilia taking different roles in the research work and seminars of the didactic research group of the CITTÀEMILIA project.
Since 2006 has been a University Researcher into Architectural and Urban Composition (ICAR 14) at the Faculty of Architecture of Parma holding the chairs of Architectural Design and Theories of Contemporary Architectural Research.
He was one of the founders of the Festival of Architecture of Parma acting as coordinator of various editions as well as editorial coordinator of the Festival Architettura Edizioni publishing house, and editor of the series entitled Architecture/Composition.
He is a member of the board of lecturers of the Doctorate in Form and Structure of Architecture (PhD School in Engineering and Architecture) of the University of Parma, as well as a delegate of the Faculty of Architecture of Parma for the LLP-Erasmus Programme.
Since 2010 he has been Director of FAmagazine, an online magazine of Architecture with peer reviews (ISSN 2039-0491) which publishes articles on the themes of architecture and the city and Since 2011 he has been member of the Scientific Committee of the Magazine DC of the Department of Architectural Composition of ETSAB, (Escuela Superior de Arquitectura de Barcelona) ‒ Universidad Politecnica de Catalunya.
Since 2008-2012 he has been chairman of the Landscape Commission of the Municipality of Mantua.
He is the author and editor of numerous international publications.
He has taken part in various national and international competitions receiving numerous prizes and awards.